Vieques (& Fajardo), Puerto Rico / October 2015
After a really busy year, Kendall and I impulsively decided to hit Puerto Rico again because it's so easy to get to. This time we aimed for the sister resort that shares an incredibly landscaped property with the Waldorf's El Conquistador - possibly my favorite hotel in the Caribbean to date where we had stayed last time we were in PR. They have a private Island that guests of the hotel ferry to (Palomino) and it's paradise. Palominito is a tiny little Island off of Palmino that you can snorkel to if you are feeling adventurous. They filmed one of the Pirates of the Caribbean movies here. I booked direct at Las Casitas village (the sister resort) for the first 2 nights because I wanted to experience the incredible infinity pool you see above. It's adults only, open all night and boasts the most incredible views. For the second leg of our vacation we hopped a small plane for $60pp from Cieba over to Vieques and I Hotwired us at the Bravo Beach Hotel. There are many small B&B type of places on Vieques to stay but I really can't live without a nice swimming pool, so I found one of the only few on the Island. My only regret is that out of the 2 main hubs on the Island, I wanted to stay in Esperanza vs. Isabel, but we had a really nice stay and did so much exploring in 3 days that we were barely at our hotel.
DON'T MISS:
The bio bay. (Mosquito bay) At night this bay lights up with bioluminescent "dinoflagellates" - glowing little organisms that produce a bright burst of blue light when they come into contact with something. It's really unbelievably cool. You take the tour at night, and if you can go when the moon is the darkest, that's the best time. It's well worth the cash, about $60 pp. *Reserve a tour with Jak Watersports because they have the clear bottomed Kayaks. We called the morning of and they had room for us.
GOOD EATS IN VIEQUES:
Sol Food. This is a food cart at the entrance to the wildlife refuge beaches. You'll be starving at the beach and everything here is good.
El Yates Bar. (Isabel) This is a classic dive bar we stumbled on one night in Isabel that was buzzing with locals and serves a delicious pina colada. It's right at the entrance to the Ferry and you can watch people get on and off the boat while you eat.
Bananas. (Esperanza) Good vibe. Pretty straightforward eatery with not much of a local vibe, but the food was really good and you have a view of the action.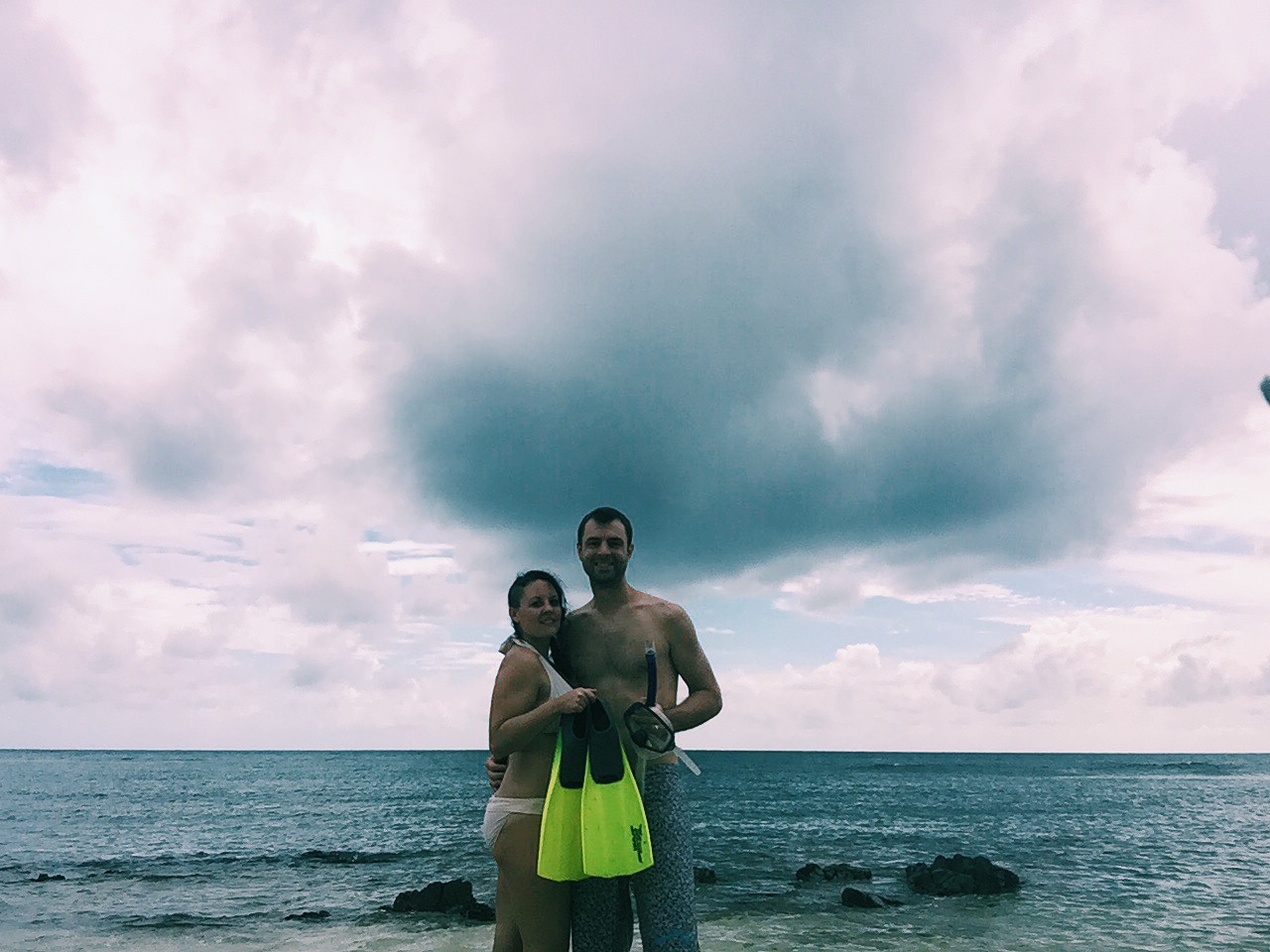 SHORE SNORKELING VIEQUES:
Punta Arenas. This place is supposed to be good, but when we were there it was too murky to see much. Sailboats anchor out here and the beach has a gritty feel to it with some sand flies if you stay too late. I'm happy we saw it, but I'd skip this one for snorkeling unless you have the time. There are huge boulders in the water and I'm sure on a clear day the snorkeling is great here. Amazing palm trees, located on a green nature reserve...you are better getting here in an SUV or jeep.
Mosquito pier (the big one). This place was scary, but good. There are snorkeling tours that come through here and you can see where they go and then follow. This was our first encounter with about a dozen jellyfish and once those started to roll in, we got a too uncomfortable being the only people in the water and with the wind picking up and the water murkey we decided to bail to another beach. To snorkel here, you have to enter the water from rocks along the road and drift past some concrete formations on your way to the pier. It gets deep and you feel quite small at this place....there are supposed to be massive turtles lurking. Look out for urchins on the rocks as you get in the water.
La Chiva beach. La Chiva was amazing. When you drive to this beach inside the Vieques National Wildlife Refuge there are numbered parking sections to pull off at. Drive to number 11 or 12 because this is the best place to shore snorkel from (you're aiming to explore the Island in the center of this half moon shaped beach.) You can see everything here on your snorkel and the depth is perfect. We saw a massive pufferfish creeping under a rock, some stingray munching on grass, a turtle, some squid and a few jellyfish.
The pier at Esperanza. (the small one). This was a really cool little sunset snorkel we snuck in before we grabbed dinner on the strip nearby. You have to be a little careful with boat traffic, but once you're under the pier, you're ok. It's a little shipwreck looking place under the surface with some old ropes and metal at the bottom and there are cool barnacles attached to the pier itself. We saw 2 ferocious looking lion fish here that were well worth the stop. This is a busy spot for eating and social life so make sure to enjoy the local vibe and get something to eat.
GOOD EATS IN FAJARDO:
****La Estacion. Just absolutely don't miss this place. The food and vibe is to die for here.
Pasion por el Fogon. Decent....really good monfongu.
Blue Iguana. Serves a really good burger.